After two down years for the basketball program, Saint Louis University made two moves in the off-season: they re-designed their mascot, which will forever haunt your dreams, and they hired a new head basketball coach.  That can only mean one thing.  It's time for us to help you Better Know a Billiken!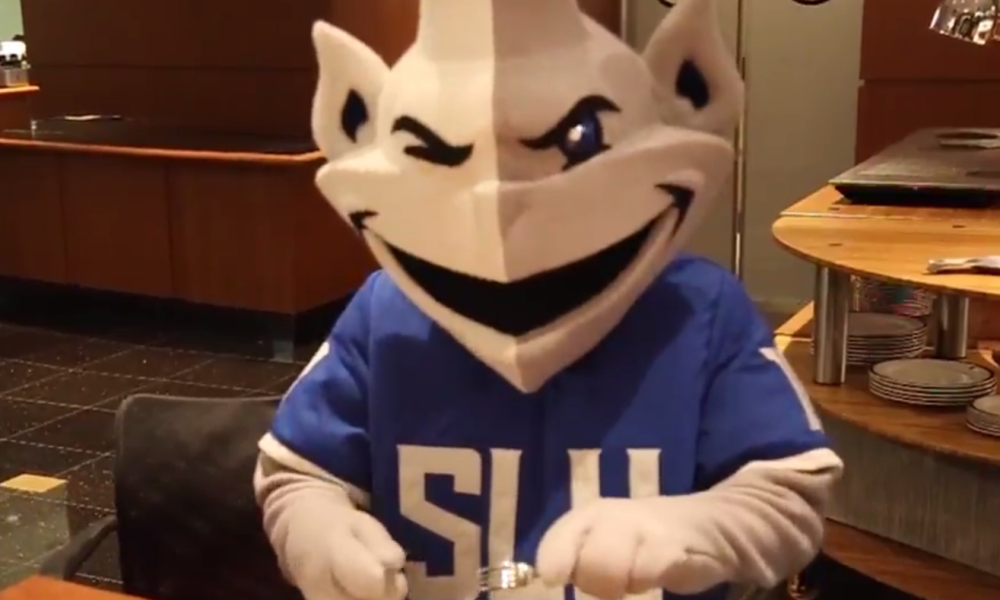 The Player:
Before Travis Ford picked up the whistle and clipboard to begin his coaching career, he was a pretty good player himself.  He began his college playing career at Mizzou for one year before transferring to the greener1 pastures of Kentucky in 1992.  He averaged 13.6 points per game his junior year, helping the Wildcats to the 1993 Final Four.  During his sophomore season, he was involved in what many consider to be the greatest college basketball game ever played.  Sure he only played 7 minutes and was 0 for 2 shooting, but he did pull down one rebound.
The Coach:
Ford began his coaching career at age 27 at NAIA school Campbellsville University, before moving on to Eastern Kentucky, UMass, and Oklahoma State.  He has a career record of 334 – 262, but his success in the regular season has not translated to the postseason.  Ford's teams have made the NCAA Tournament six times, but he has won only one game in the Tournament.  In 2013, Oklahoma State entered the Tournament with a #5 seed and were upset in the first round by #12 seed Oregon. His disappointments in postseason play was the main reason Oklahoma State decided to part ways with Ford in 2016 after his 9th season at the school.
The Recruiter:
Ford has been criticized for his failure in the NCAA Tournament, but one thing you can't question is his recruiting success.  In his career, Ford has landed three McDonald's All-Americans and six players who made the NBA.  He has already made noise in the recruiting game, getting commitments from St. Louis areas high schoolers Jordan Goodwin, a top 60 recruit in the class of 2017, and from Carte'Are Gordon, a top 10 recruit in the class of 2018.
During the summer, Ford hired Jordan Goodwin's AAU coach, Corey Tate, to be an assistant coach at SLU.  At the time, Tate was an assistant at Mizzou, and before long, Goodwin made his commitment to SLU.  Many fans (mostly Mizzou fans) were pissed about this supposed shady coach poaching move by Ford, but I like it.  Ford didn't break any rules and he has never been accused of any recruiting violations.  If Ford has to toe the line to bring in the big time recruits, and is able to do so while staying within the millions of NCAA rules, more power to you.  Plus something like this is nothing compared to what goes on at other schools.2
The Actor:
After Ford's playing career ended, he made his big-screen debut in the 1997 film "The Sixth Man," a comedy where a college basketball phenom dies on the court, then precedes to "haunt" his brother, who is also a member of that team and helps lead them to the NCAA national championship. In the film, Ford plays an idiotic yet scrappy bench player.  He really stepped out of his comfort zone.3  The film was shut out of the 1997 Academy Awards and Ford has yet to appear in another feature film since.

Outlook:
We may be in for another down season as SLU transitions to the new Travis Ford regime.  However brighter days are ahead.  Ford has added three transfer players, arriving from Michigan State, Rutgers and Central Florida, that must sit out the upcoming season due to the NCAA transfer rules.  But these three will be ready to go in 2017 along with Goodwin, and Gordon will be here in 2018.  So while the Billikens may be watching the big dance from home in 2017, maybe they'll be dancing in 2018.
The Billikens tip off the season Friday, 11/11 against Ball State.