First start of the year for netminder Carter Hutton went pretty well and it came in one of the fastest performances I've ever seen from the Blues.
Blues win 3-2 over Rangers
Goals: Tarasenko (3), Stastny (2), Petro (1)
We've all heard about the Blues trying to get faster for the last couple seasons now, and last night's game was the first time we've really seen it. I mean these guys we're a zoomin'.
Speaking of speed, Tarasenko didn't even let me get the to my couch before scoring on a breakaway 1:13 into the game.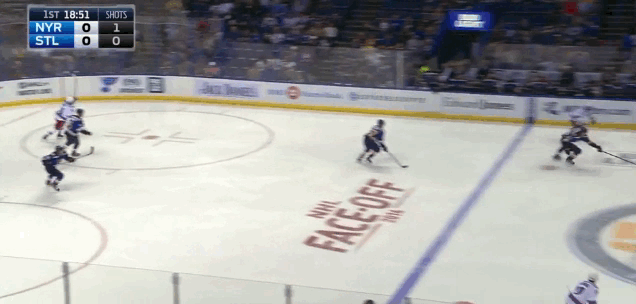 The entire game was fast. As soon as the puck was on the opposing team's stick, it was immediately over the redline and into the offensive zone.
Not necessarily the type of game speed you'd like to see when starting your backup goalie, but the newly acquired Hutton handled it very well.
A few huge saves during some very aggressive sequences from the Rangers and then the entire 3rd period is the reason we won this game. His only mistake was a soft goal, a sharp backhand that got in because Hutton wasn't hugging post. Panger said he owned up to it during the next TV timeout. Overall, Hutton stopped 33 of 35 shots from the Rangers.
Hutton has a career record of 34-24-12, save percentage of .910, and a GAA of 2.01 all with the Nashville Predators.1 Those numbers are pretty decent and should only get better with the Blues' strong defensive system. You also have to figure that his numbers will get even better being goalie in an organization that employs Martin Brodeur.
Besides the above expectation goaltending, Stastny swatted in his 2nd goal of the year2 and added another assist to his season point total. Unfortunately some more injuries from the Blues occurred in this game. Gunnarsson was getting beat up right and left for most of the first 2 periods. Then Brodziak and Lehtera both left the game and didn't return either.
Nonetheless, you've got to really like what we're seeing out of the Blues so far this year. Balanced scoring, solid defense and now even some speed to go with it. We're in for a real treat this year.
Quick Hits
In 50 years, the Blues have only started 3-0 three times. Last night made it 4 times.
Fabbri likes to dive a lot.3
Stastny got his 100th point as a Blue, also has 6 points in first 3 games – first to do it since 09-10 (Keith Tkachuk).
Blues have 8 different players with goals which is tied for 1st in the NHL.
GIF of the Game
Through three games, Paul Stastny leads the #stlblues with six points (2G, 4A). pic.twitter.com/y2BggG3rXX

— Cristiano Simonetta (@CMS_74_) October 16, 2016
Congrats on the points Stastny, now go put a dollar in the cursing jar.
Up Next
Blues travel up the street to our polite neighbors of the north on Tuesday to faceoff against the Canucks and those red-headed twins from The Children of the Corn.
My "Bold Prediction" from the last recap didn't quite pan out4, and my "Not so Bold Prediction was halfway correct as Tarasenko scored just 1:13 into the game. So this week…
Bold Prediction: Stastny gets 2 more points.
Not so Bold Prediction: Allen's back in net.
I'm going to keep riding the wave and say the Blues win again and 6-3 is your final score.