If you're a fan of Alex Rodriguez or Johnny Manziel, today was not a good day for you to watch ESPN. I can't imagine that venn diagram encompasses too many people. I don't recall Texas fans be too infatuated with A-Rod after his stint with the Rangers and after Manziel has puke and rallied his way through the offseason his fans seem to fade outside the Lone Star state.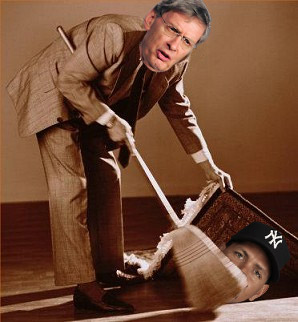 Well, yesterday Bud Selig did what A&M wished it could do with Manziel's autograph controversy*, and swept A-Rod and fellow roiders Nelson Cruz, Evereth Cabrera, and more under the rug. The rest of the crew got off with a miniscule 50 game suspension, but Bud went after A-Rod with an iron fist and suspended him through the 2014 season. Poor A-Rod will have to survive on the $61 million guaranteed left on his contract.
Of course the Yankees activated A-Rod today and, in a true act of schadenfreude, batted him cleanup, and will continue to do so until A-Rod's appeal process is over. At least White Sox fans gave him a heart booing upon his return.
*Drink every time a talking head calls it Autograph Gate.