Here at View From The Pine we1 have been scientifically2 putting together the greatest fictional sports team of all-time. We broke it down into five key categories that make a great team: key players, depth, coaching, results, and legacy. Then rated each team's category on a scale of 1 to 5 and totaled them up to find the best.
Let's get right into number 5 on the list.
The Washington Sentinels – The Replacements
Key Players
Shane Falco (Keanu Reeves) is the unequivocal leader of the team. He's a former star quarterback of THE Ohio State University, but he blew his chance at fame and fortune and lives on a boat. Under3 which he reenacts old football plays from his glory days.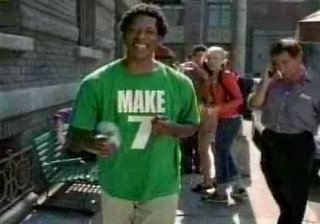 Shane may be the leader, but he's not the only talent on the team. He's joined by Clifford Franklin (7UP Guy aka Orlando Jones). He's got all the speed but hands of stone. Basically Jared Cook.
On the other side of the football you've got Danny Bateman (Jon Favreau) a member of the DC SWAT who is basically a more well-spoken Adam Sandler from The Waterboy.
Keanu has experience as a quarterback flaming out due to failure or injury4, but the rest of the squad is pretty much garbage. These are all guys that only made the pros because the rest of the league went on strike.
Grade: 2
Depth
Pam's boyfriend from The Office5 plays a deaf tight end who just may be the best player on this team. You've got a running back with knee problems and your kicker is addicted to gambling. This team is not deep.
Grade: 0
Coaching
The team needs to get 3 wins in 4 games to make the playoffs after being hired with 4 weeks to go because, not only are the players on strike, but the coaches are too or something? Who knows.
Enter Gene Hackman. He manages to not only recruit an entire team's worth of players in those 4 weeks, but forms them into a team that gets those 3 wins. Of course he presumably gets immediately re-fired after the win, but that's a solid coaching job.
Grade: 3
Results
Made it to the playoffs with a bunch of scabs yet somehow were playing against pros in the last game6, but only had their former quarterback come back. Who presumably was just pissed off they were winning in spite of him striking and just was striking because he's kind of a dick. Which we're to assume the rest of the team came back for the playoffs and Keanu rode off into the sunset to go bust bank robbers as an EFF-BEE-EYE AGENT.
Grade: 3
Legacy
You're only going to catch replays of this team on late night weekday cable. Hopefully you're drunk.
Grade: 1
Total GOAT Score: 9