Sorry for the delay getting the latest edition of our All 2000s St. Louis Cardinals team out there. We've been pretty busy drowning our sorrows from the Rams move to Los Angeles. We already bitched about Stan Kroenke in real-time, and I'm sure we'll complain about him more on The PineCast tomorrow.
But let's not let that mustachioed turd take away from the greatness that is St. Louis. How are we going to do that? Why, by taking an in depth look at our pick for center field on the All 2000s St. Louis Cardinals team.
Let's cover voting again. We've got 4 voters1, and each ranks their top 3 at the position with 3 points going to 1st, 2 points to 2nd, and 1 point to 3rd. Here's where we're at:
Catcher – Yadier Molina
First Base – Albert Pujols
Second Base – Fernando Vina
Third Base – Scott Rolen
Shortstop – Edgar Renteria
Leftfield – Matt Holliday
If you want to hear us debate center field on the PineCast, checkout episode 040.
The Starter – Jim Edmonds (12 votes)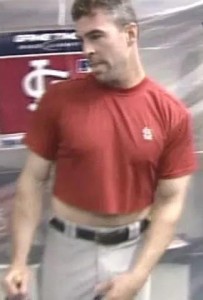 Jason's Take (3 points) – It is a travesty that Jimmy Ballgame didn't get enough votes to stay on the Hall of Fame ballot. Probably due to those same jokers that didn't vote for Griffey. I'll let the other guys handle the stats, and instead regale you with a tale of the most amazing catch I've seen in person. And I'm not talking about that amazing diving snag I made in 5th grade2. I'm talking a tone-setting Game 7 NLCS full-extension dive into the left center gap to save 2 early runs. Not to mention that was the night after an extra-inning walkoff homerun to set up that Game 7. A Game 7 which the Cardinals would go on to win.
Tim's Take (3 points) – No question who number 1 is in centerfield. Jimmy Ballgame played in over 1,000 games for the Cardinals. Hit .285, 241 home runs, and made too many highlight reel catches to count. Not a bad haul from Adam Kennedy and Kent Bottenfield.
David's Take (3 points) – Jimmy Ballgame is as good as it gets in CF for the Birds. In 8 seasons with the Birds, he had 6 straight Gold Glove seasons, finished in the MVP voting 5 times, hit .285 with 241 HRs, and 713 RBIs. A bunch of idiot writers kicked him off the HOF ballot after just one try. In my opinion, one of the best defensive outfielders to ever play the game.
Steve's Take (3 points) – One of the best defensive center fielders of all time. Clutch glove, clutch bombs and just look at that half shirt.
The Backups – Rick Ankiel (6 points)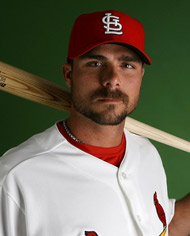 Tim's Take (2 points) – Ironically, the Angels attempted to get Ankiel in the Edmonds trade, but settled for Bottenfield. After his pitching career flamed out, Rick played in 289 games for the Cardinals in the field from 2007-2009. He hit 47 home runs and 148 RBIs during that time and made some spectacular catches. When Rick homer in his first game back (I witnessed this from my Infield Terrace Reserve seats), LaRussa had never showed more joy.
Jason's Take (2 points) – Uhh I was just as excited as LaRussa when Ankiel hit that bomb in his first game in the Bigs as an outfielder. He's number 2 on my list thanks to the arm though. He made two of the best throws I've ever seen in the same night going from deep centerfield to thirdbase. And we're not talking about David Ortiz running. This was Willy Taveras, one of the faster guys in the league at the time. And I'm just linking to the video because the MLBs player is a nightmare on embeds.
Steve's Take (1 point) – Ankiel was probably one of the best stories in recent Birds memory. The dude went back to the minors and became an outfielder for cryin out loud. Then fought back to the majors and hit a bomb in his first game back.
David's Take (1 point) – Good ol' Rick the Stick made my top 3 purely for the fact he's the best pitcher converted to an outfielder ever. Not a real stat, but prove me wrong. A feared arm for baserunners rounding pretty much any base (just ask the Rockies) and could drop bombs if he didn't strike out. 47 HRs in 3 years as an outfielder with the Birds.
The Backups – Jon Jay (6 points)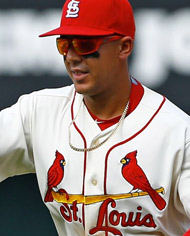 Steve's Take (2 points) – Jay played centerfield for the Birds for the majority of 5 seasons, which is a lot more than you'd expect. During that time, he was only about the most consistent player on the roster and a part of two World Series teams.
David's Take (2 points) –Sure, you could say Jay is a mediocre CF. Not a flashy defender, not an offensive threat, nothing to worry about. However, in my opinion, he was one of the most underrated and consistent outfielders in the league during his time with the Cards. 6 seasons and a .287 hitter. Also led the league in HBPs in 2014 with 20.
 Tim's Take (1 point) – Homegrown player drafted by the Birds in 2006 and played from 2010 – 2015. Hit .287 during his time and finished in the Top 10 in the NL in batting average and on-base percentage in 2012. Also was the starter during 2 NL Pennant winning teams.
Jason's Take (1 point) – I am a Jon Jay fan. I will not be donating my Jon Jay shirsey to Goodwill along with my Heyward shirsey. I'll continue to wear it. Unless the Cardinals are playing the Padres.
---
Voting Results
Jason
Jim Edmonds – 3 points
Rick Ankiel – 2 points
Jon Jay – 1 point
Steve
Jim Edmonds – 3 points
Jon Jay – 2 points
Rick Ankiel – 1 point
Tim
Jim Edmonds – 3 points
Rick Ankiel – 2 points
Jon Jay – 1 point
David
Jim Edmonds – 3 points
Jon Jay – 2 points
Rick Ankiel – 1 point