We're on to the final position in the starting 8 fielders of our All 2000s St. Louis Cardinals team. And we finally have a non-unanimous number 1! Right field has seen it's faire share of fan favorites, rivals, and top prospects, but who really stood out as the number 1 player there in the 2000s?
Before the big reveal, let's recap the rules.
We've got 4 voters1, and each ranks their top 3 at the position with 3 points going to 1st, 2 points to 2nd, and 1 point to 3rd. Here's where we're at:
Catcher – Yadier Molina
First Base – Albert Pujols
Second Base – Fernando Vina
Third Base – Scott Rolen
Shortstop – Edgar Renteria
Leftfield – Matt Holliday
Centerfield – Jim Edmonds
Want to hear us break this down on the PineCast? Check out episode 042.
The Starter – Ryan Ludwick (11 points)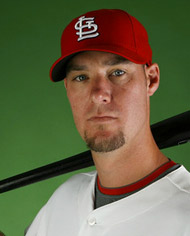 Jason's Take (3 points) – I didn't know who I was going to pick as my number 1 right fielder. A couple recent players came to mind but they were stars elsewhere. But they were only here 2 years. There was the phenom that never fully panned out. But he played his best baseball after the Birds. And Juan guy2, but Aaron Miles put an end to that.
Then I put together a massive spreadsheet of all the rightfielder's stats and one jumped out. Ryan Ludwick had the most RBIs among Cardinals right fielders. He had the highest single season HR (37) and RBI (113) among Cardinals right fielders. He was quietly a really good player for the Birds.
Steve's Take (3 points) – Luddy was one of the most underrated Birds of the 2000's. You gotta be good to hit in the middle of that lineup. 37 HR, 113 RBI in his 2008 All Star season is reason enough to make the tops.
Tim's Take (3 points) – Split time between all 3 outfield spots during his time in St. Louis, but was predominantly a right-fielder. He appeared in right field in 365 games from 2007-2010. He hit .280 with 84 home runs and 305 RBI. In 2008, he made the All Star team and won the Silver Slugger. He ran into some tough some tough luck, just missing the Cardinal World Series teams of 2006 and 2011, and the team missed the playoffs 3 out of his 4 years. But he did pretty well in his lone playoff appearance, hitting .333.
David's Take (2 points) – Another example of great Cardinal scrappiness. Played the game the right way and wasn't fancy but still had a great 4 year career with the Birds. His 2008 season might be the best season from a Birds right fielder for a long time. That year he was an All-star, Silver Slugger, and 16th in the MVP vote by amassing 37 HRs, 113 RBIs and hitting .299 in 152 games.
The Backup – Carlos Beltran (6 points)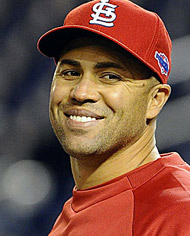 David's Take (3 points) – Only 2 seasons with the Birds, but for a veteran and potential future Hall of Famer, Beltran's numero uno in my book. He made the game look so easy, almost like he was bored out there, but that's just how good he was. 56 HRs and 181 RBIs while playing in 296 games.
Tim's Take (2 points) – His time in St. Louis was short, but he probably the team MVP during his 2 seasons here, and his production in 2012-2013 made up for what the team thought they lost when Pujols left. He hit 56 home runs and 181 RBI and made the All-Star game both years.
Steve's Take (1 point) – Carlos is good at baseball. He took over for Albert in 2012 and had a better year than Bert had with the Angels. Also he played us to a WS, and had one of the most clutch putouts at homeowners seen in person to save NLCS Game 1.
Honorable Mentions
J.D. Drew (4 points)

Steve's Take (2 points) – A solid player that could never get fully healthy. Never lived up to the huge expectations, but I give him extra points for getting pelted with batteries in Philly.
Tim's Take (1 point) – Sure he was a pain in the ass, landing on the DL during every freaking season he played here, but we got Adam Wainwright for him (and Ray "Burger" King). Plus we got to see Phillie fans chuck batteries at him which is always entertaining. And isn't that what baseball is all about.
David's Take (1 point) – Went with the tenure/potential over actual stats. J.D. was supposed to be a 5 tool All-Star player and got a typo on his memo to just "be a tool player." The next coming of Mickey Mantle turned into the first coming of Colby Rasmus. But he still wasn't that bad to make #3 on my list.
Lance Berkman (2 points)

Jason's Take (2 points) – Ok so Lance really only had 1 season as a Birds rightfielder, but he also finished 7th in MVP voting, tied Game 6 up in the bottom of the 10th with 2 outs, went from fan rival to fan favorite, and grew one hell of a beard. Gotta give Lance some props in this vote for that.
Stephen Piscotty (1 point)

Jason's Take (1 point) – Meatballs! I may have jumped the gun on this one, but Piscotty strikes me as a guy that will be around for awhile manning right field. At least right field for 2016.
---
Voting Results
Jason
Ryan Ludwick – 3 points
Lance Berkman – 2 points
Stephen Piscotty – 1 point
Steve
Ryan Ludwick – 3 points
JD Drew – 2 points
Carlos Beltran – 1 point
David
Carlos Beltran – 3 points
Ryan Ludwick – 2 points
JD Drew – 1 point
Tim
Ryan Ludwick – 3 points
Carlos Beltran – 2 points
JD Drew – 1 point