Do you ever stay up at night thinking about who the best St. Louis Cardinals second baseman of the last 15 years is? Well, we do. That's why we're compiling a team of the best Cardinals at each position from the 2000s. We've already done Catcher and First Base. No real surprises there, but second base is a bit trickier as there has been a lot of turnover at the position.First a refresher on the rules. We've got 4 voters1, and each ranks their top 3 at the position with 3 points going to 1st, 2 points to 2nd, and 1 point to 3rd. Here's where we're at:
Catcher – Yadier Molina
First Base – Albert Pujols
If you want to hear us debate this more in depth check out Episode 036 of The PineCast.
The Starter – Fernando Vina (12 votes)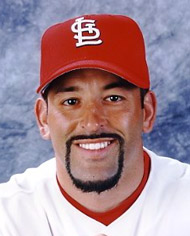 Steve's Take (3) – The player I emulated in city league in the early 2000's. Which is the biggest compliment I can give anyone really. He was the only consistent second baseman in the 2000s which had a bunch of one and done guys up until Kolten Wong came to the bigs.
Tim's Take (3) – Second base has been a revolving door in recent year, but this guy stabilized the position during the beginning of the decade. Vina played in 488 games with the Cardinals from 2000 – 2003, and during this time had a .285 batting average and won 2 gold gloves. He also performed well in the postseason, hitting .333 with 2 home runs and 9 RBI in 21 playoff games. And despite his stature of 5'9 and 170lb, don't question his toughness. He led the National League in being hit by pitch in 2000, finished 2nd in 2001 and 2002, and can take a hit better than any current St. Louis Ram.
David's Take (3) – He's the most tenured 2B so far since 2000, just playing 4 seasons (488 games) with the Birds while hitting .285 with 164 RBIs, 23 triples, 48 steals 2 Gold Gloves. Led the MLB in HBPs in 2000, led the NL in fielding percentage twice (2000 & 2001), 356 double plays turned, led the NL in that category in 2001 and got 2nd in 2002.
Jason's Take (3) – Really the only second baseman that actually got any considerable playing time in the last 15 years. There's been a lot of guys playing 1 or 2 years. But for the 4 years he was with the Cardinals, Fernando Vina was a very consistent at the plate hitting .285 with 286 runs scored, and in the field, taking home a couple Gold Gloves, Here's hoping Wong brings back some of that stability.
The Backup – Kolten Wong (6 points)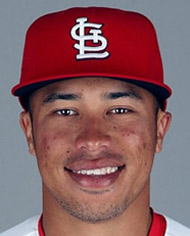 Steve' Take (2) – As I mentioned, after a long line of one and done second baseman and outfielders playing two bag, Wongster is our dude. Looking forward to watching Kolten play for the Birds at second for a long time. Also, chicks dig the Wong ball.
David's Take (2) – Wong: Only a career .250 hitter so far in 295 career games, but already has 23 bombs and 103 RBIs, 38 steals (10 less than Vina in half the games). In my eyes, has the potential to be a top 5 2B in the league both offensively and defensively for awhile as long as he can stay healthy.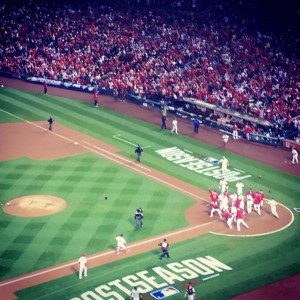 Tim's Take (2) – Despite a small sample size, Wong has made a big impact during his time with the Birds. After making his debut in August 2013 and playing in just 32 games that season, Wong has provided a mix of power and speed, while making some incredible defense plays. During the past two seasons, he has hit 23 home runs and stole 35 bases, and finished 3rd in the Rookie of the Year voting in 2014. Wong ended Game 2 of the 2014 NLDS on a walk off home run in the one of the most exciting, yet underrated, Cardinal playoff games of the decade.
Honorable Mentions
Skip Schumaker (5 points)

Jason's Take (2) – Pretty telling about the lack of organizational depth at second when your starting two-bagger for two seasons was an outfield by trade. Skip made the transition well, and turned a solid double play. Plus he was a fan favorite.
David's Take (1) – Made the transition from OF to 2B look like a freakin' cakewalk. 412 games at 2B. 238 double plays turned. Fielding percentage of .980.
Steve's Take (1) – The gritty award goes to Skippy. I am also the proud owner of a Skip shirsey with cut off sleeves, which is the second biggest compliment I can give someone.
Tim's Take (1) – As with many Cardinal players this decade, it's difficult to determine what Skip's official position is. Skip played in 810 games over 8 seasons with the Cardinals. He appeared at second base in 412 of those games. Despite strictly playing the outfield during his first 4 seasons, Skip performed well defensively when he took over at second in 2009, in which he turned 80 double plays and had a .983 fielding percentage. Skip had a career .288 batting average during his time in St. Louis and was part of 2 World Series winning teams.
Ronnie Belliard (1 point)

Jason's Take (1) – Ronnie was pretty instrumental in the 2006 World Series run. Plus he made a sweet diving play with the bases loaded in the 7th of NLDS game 1.