I'll be the first to admit I'm a bit of a lax Blues fan. I'll check the scores and make it to a game or so each season, but now that I'm out of my college house I don't have roommates keeping me as informed. I'm certainly not as up on my Blues happenings as I am on the Cardinals or Rams. I blame it on not having the big Blues season during my youth like the Cardinals (McGwire) and Rams (Greatest Show on Turf) did. That's why I didn't turn the game on until the 2nd period last night.
But holy shit, was that one hell of a 2nd period. 4 goals, followed by 3 fights (all Blues wins) to turn a 1-1 game into a 5-1 beatdown. It's hard to ignore a period that dominating against the 1st place team in the division. Check out the highlights at NHL.com. Let's see the fights, in gif form!
After taking a 5-1 lead in the 2nd period Chris Stewart destroyed Cory Sarich, and earned an extra 2 minutes pumping up the crowd afterwards.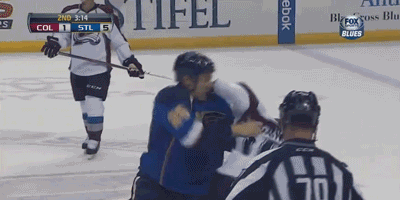 40 seconds later on the clock Sobotka beat Matt Duchene into the boards.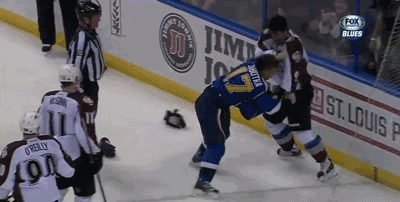 2 minutes after that Cody McLeod decided he wanted to take on Ryan Reaves. That was a poor choice.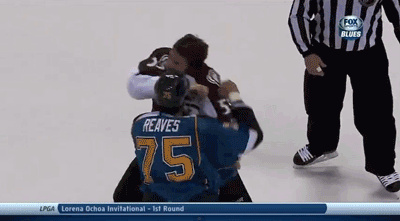 Bonus: Oshie delivering a big hit.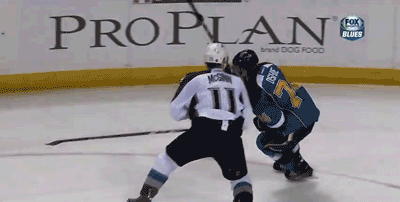 And just one more from the Reaves fight.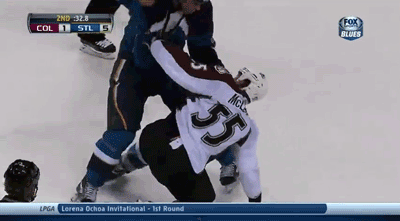 Side note: I got to see Reaves drop the gloves off the opening puck last Saturday against the Penguins. I highly recommend getting to a game there. Even everyone's favorite Cardinal, Matt Holliday, was there!
Remember now, this was all just the 2nd period. Both teams added 2 in the 3rd period for a 7-3 final. Let's go Blues.