I can't win picking the Rams the last 10 years. I can't win picking against the Rams this year. So I'm not picking their game this week.
Quick recap of the standings. Steve and Tim blew it out of the water again going 2-2 to move their records to 5-7. While Jason threw a perfect game going 0-4 to take sole possession of last place from David who could only muster a 1-3. Making Jason's overall record 2-10 and David's 3-9. Just think if you would pick the opposites.
On to the picks!
GOTW #1: Buffalo Bills @ New England Patriots
Steve: I'll take the Pats to go 4-0 while Tawmmy is out, because that just seems like something that is bound to happen.
Pick: New England Patriots
Tim: I don't care who play QB for the Patriots, I'm not picking against them. Also, in the last 15 games between these 2 teams in Foxboro, the Pats are 14-1. Edelman throws for 450 yards and 6 TD's in the win, then goes on IR.
Pick: New England Patriots
David: Patriots are bound to lose 1 without Tom Brady. BUF took out the NFC favorite Cardinals last week in blowout fashion while scoring over 30 points for back-to-back weeks against teams that are recently very solid defensively.
Pick: Buffalo Bills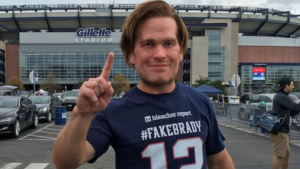 Jason: I have no idea who is going to be playing QB in New England this week. It could be Garoppolo. It could be Jimmy Brisket. It could be Wes Welker in that creepy Tom Brady mask. It could even be Tom Brady in a Julian Edelman mask as Steve suggested on the PineCast. Whoever it is, the Bills always lose in New England. Bill Belichick will just use his devil magic to make Rey Ryan see all his players as giant feet like old Looney Tunes cartoons.
Pick: New England Patriots
GOTW #2: Oakland Radiers @ Baltimore Ravens
Steve: Oakland over Baltimore because I had no idea that the Ravens were 3-0.
Pick: Oakland Raiders
Tim: After talking with the locals during my trip to Vegas this week, people are pumped about the Las Vegas Raiders. If they keep winning, it's gonna be tough for Goodell to move them. Ah, who am I kidding? Goodell doesn't care. He'll do it as long as Jerry Jones approves.
Pick: Oakland Raiders
David: The Ravens are 25th in the NFL in total offense, but the reason they're 3-0 is because they're 4th in the league in points allowed. Bad news for them is that the Raiders are ranked 2nd in the league in total offense so I don't see the Ravens keeping up with Derek Carr and Oakland's talent loaded offense.
Pick: Oakland Raiders
Jason: I've been on the bandwagon for the Raiders offense all season with my fantasy team revolving heavily around them. I looked like a genius in weeks 1 and 2, but not so much in week 3. Somehow the Ravens are 3-0 with a +13 point differential. I'm going make this a View From The Pine Solid Gold Lock. Which means we all picked 1 team. So that team will assuredly lose. So far we're 1-3 when making a consensus.
Pick: Oakland Raiders
Lock of the Week
Steve: Dallas Cowboys @ San Francisco 49ers
Dallas will beat the 49ers because they're not good at football.
Pick: Dallas Cowboys
Tim: Dallas Cowboys @ San Francisco 49ers
Last season, San Francisco dominated week 1 of Monday night and then lost their next four. After beating the Rams on Monday night this year, they lost their next 2 by a combined score of 83-45. I see a trend.
Pick: Dallas Cowboys
David: Denver Broncos @ Tampa Bay Buccaneers
Tampa Bay lost to the Rams, so by the transitive property (math bitch), they will also lose to the Broncos. Also if Brian Quick has a receiving TD against you, then Demaryius Thomas and Emmanuel Sanders should be able to get like a billion TDs against you.
Pick: Denver Broncos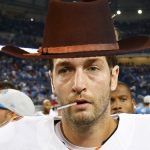 Jason: Detroit Lions @ Chicago Bears
Jay Cutler is questionable. Jeremy Langford is out. Cutler's Last Stand1 cut Jay Cutty for Stafford in Week 2. And would be 3-0 had I gone Stafford over Carr and any backup RB over Langford last week. I'm going the Lions.
Pick: Detroit Lions
Upset of the Week
Steve: Tennessee Titans @ Houston Texans
Picking the Titans over the Texans after they got smoked by the Pats last week.
Pick: Tennessee Titans
Tim: Tennessee Titans @ Houston Texans
To be fair, I made this pick before the announcement of JJ Watt's season ending injury. Check the text message of my picks to Jason on Tuesday at 1:02 pm. Last week's debacle against the Patriots and their 3rd string QB had to crush the Texans confidence.
Pick: Tennessee Titans
David: Carolina Panthers @ Atlanta Falcons
ATL has the most points scored in the NFL (104). Panthers have also given up at least 20 pts in each of their 3 games against non-elite QBs (Siemian, Gabbert, Bradford). Now Matty Ice isn't exactly elite, but he is sure as hell better than those turds.
Pick: Atlanta Falcons
Jason: Indianapolis Colts @ Jacksonville Jaguars
The good jolly ole London game. I didn't realize this game was in London when I made the pick. Accepting the Colts as an underdog to the Jaguars because they're both kind of bad and the Jags appeared to be the home team on the odds list. Why they were giving the Colts 2.5 for a game on a neutral field, I'll never know. But I'm 2-10. I need this one.
Pick: Indianapolis Colts
---
Photo Credit: Nicu Buculei via Creative Commons License (Photo edited)