Before we begin I just want to remind everyone that I won the regular season picks last year here at View From The Pine with a 32-35 record. Which has me just as surprised as you guys that I'm currently on pace for, oh, 20-48. But I'm in 4th in my picks pool. No idea.
Steve went 2-2 to take over sole possession of second place from Tim who went 1-3 last week. While David continued his hot streak to go 11-1 over the last 3 weeks. Will he keep it up? Only time, and this week's picks, will tell.
Game of the Week #1: Minnesota Vikings @ Philadelphia Eagles
Jason: This will be Sam Bradford's first ever game against a team he used to play for as he leads the Vikings into Philly to take on the Eagles who dealt him at the beginning of the season. The Vikings are undefeated, but I get the sense that the Philly fans may be pretty relentless with Bradford in this one and run him right out of town again. This time with the Vikings first loss.
Pick: Philadelphia Eagles
Steve: Vikings are coming off a bye and I think Carson Wentz is due to have a bad-ish game. Also, who doesn't like to see Sammy B. kick ass?
Pick: Minnesota Vikings
David: Sammy B and the gang will win a tight one in Philly. Carson Wentz throws a pick on the final drive to end it. Rookies gonna rookie.
Pick: Minnesota Vikings
Tim: The honeymoon is over for Carson Wentz in Philly after they dropped their last 2 games. Carson threw for just 179 yards last week, and Minnesota has allowed the 3rd fewest passing yards in the league.
Pick: Minnesota Vikings
Game of the Week #2: Seattle Seahawks @ Arizona Cardinals
Jason: Both of these teams haven't loss since they lost to the Rams. That being the Seahawks only loss and one of the Cardinals 3 losses. Although 2 of the Cardinals losses have come against the Patriots (without Brady) and the surprisingly good Bills (who go for the NFC West sweep in Week 9 @ Seattle). The Cardinals seemingly remembered how to football last week against the Jets and David Johnson has been by far the best NFC West running back this year. Plus they just need this game more.
Pick: Arizona Cardinals
Steve: The Cardinals beat two bad teams in a row and that should get them rolling enough to win a tough one against the Seahawks.
Pick: Arizona Cardinals
David: I see SEA laying the smack down on ARI this week so that they don't get into a situation where a pass interference call determines the winner.
Pick: Seattle Seahawks
Tim: Sure, Seattle got a gift no-call on the pass interference last week for their 4th win, and only have one more win than Arizona. However, Arizona's three wins have come against the Bucs, 49ers, and Jets. Combined record of these three teams: 4 – 13. I'll take Seattle to maintain their division lead.
Pick: Seattle Seahawks
Lock of the Week
Jason: Cleveland Browns @ Cincinnati Bengals
If this game were in Cleveland I might go with the Browns getting a bump from the Indians World Series appearance and the Cavaliers season opening soon. Instead it's in Cincinnati and these are still the Browns who are currently +10.5 dogs. I'm going with the Bengals.
Pick: Cincinnati Bengals
Steve: New England Patriots @ Pittsburgh Steelers
Patriots seem to own the Steelers and Rothlesberger is out. That's not a great combo.
Pick: New England Patriots
David: Cleveland Browns @ Cincinnati Bengals
Do I really need to explain why?1
Pick: Cincinnati Bengals
Tim: Houston Texans @ Denver Broncos
Brock Osweiler returns to stadium where he held the clipboard for four seasons. Along with his $72 million dollar contract, Osweiler has 8 TD and 8 INT. And he hasn't played a defense as good as Denver's.
Pick: Denver Broncos
Upset of the Week

Jason: San Diego Chargers @ Atlanta Falcons
I know the Falcons are 4-2 with their two losses coming by a total of 9 points. But I just don't see them as a 14-2 or 13-3 power house. They could still prove me wrong. San Diego is hot garbage. But they somehow keep blowing leads. If this upset happens it'll be because Phillip Rivers plays some really good football and the Chargers defense gets a couple stops. Maybe Joey Bosa goes off. Maybe the refs don't call an obvious pass interference on Julio Jones. Who knows. This is the NFL though. So probably the latter. Plus if the Chargers lose another close game, Rivers may snap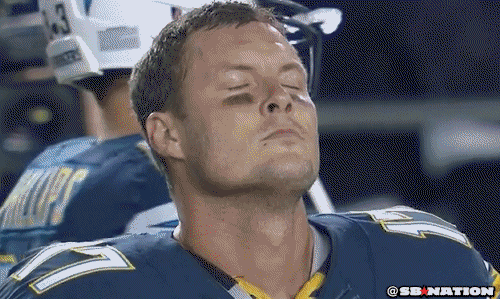 .
Pick: San Diego Chargers
Steve: Indianapolis Colts @ Tennessee Titans
Indy sucks, Tennessee sucks and is favored by 3 points. I'll roll the dice on this one.
Pick: Indianapolis Colts
David: Oakland Raiders @ Jacksonville Jaguars
Blake Bortles hasn't been too great this year, but he's always due for a random breakout performance against a team he shouldn't beat. I'm calling that for this game.
Pick: Jacksonville Jaguars
Tim: San Diego Chargers @ Atlanta Falcons
The Chargers are 2-4, but their 4 losses are by a combined 14 points. Atlanta was 5-1 before dropping a heartbreaker to Seattle last week. And the Falcons have a history of falling apart after a strong start. Last year, they started the season 5-0, before spiraling to an 8-8 record.
Pick: San Diego Chargers