By far the biggest move the Cardinals have made this offseason was trading for Marcell Ozuna from the Miami Marlins.
He may have been the consolation prize to Giancarlo Stanton, but that doesn't mean he isn't one hell of a prize. And unlike Giancarlo, Ozuna is excited to play baseball in St. Louis.
So let's Better Know him.
The Numbers
Marcell "The Big Bear" Ozuna is a 2 time All Star. Coming off a season where he won a Gold Glove and Silver Slugger. He's a spritely 27 years old and coming off a season where he slashed (avg / obp / slg ) .312 / .376 / .548.
But to get a better idea of what kind of season Marcell Ozuna put together in 2017 we can take a look at some advanced stats.
If we take a look at his wOBA1, a stat that attempts to credit hitters for the outcome of an at bat, his .388 falls right in between Fangraphs' Excellent (.400) and Great (.370) ranges.

Ozuna's wOBA last year was actually better than Stanton in his own age 26 season. And he's tracked along with Stanton's own wOBA pretty well the past two season.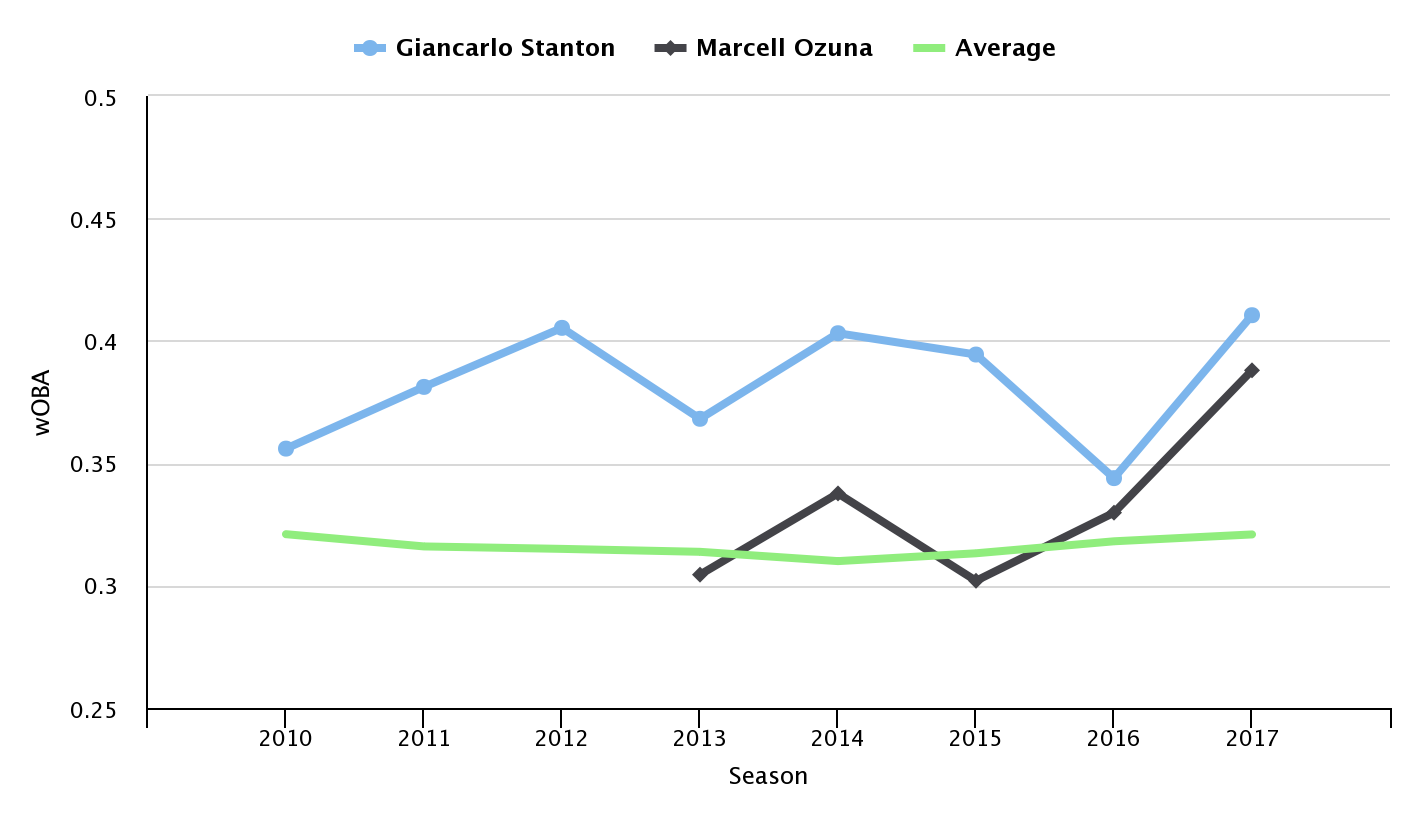 Another advanced stat we can take a look at is his wRC+2. This is a rate statistic (like avg and obp) that is scaled to where 100 is average and accounts for both league and park adjustments.

Ozuna put up a 142 wRC+ in 2017. Putting him in the top 25 in baseball. Right next to Paul Goldschmidt who also put up a 142.
Among the Birds
You're probably wondering where he fits in amongst the Birds. If we take a look among the Birds with at least 400 plate appearances in 2017, which is still 102 shy to qualify for the batting title, his Cardinals ranks look like so:
Average: #1 (.312)
OBP: #3 (.376) behind Pham and Carpenter and tied with Wong.
SLG: #1 (.548) followed by DeJong, Pham, then Fowler
HR: #1 (37) 12 ahead of DeJong
RBI: #1 (124) 42 ahead of Yadi
wOBA: #2 (.388) just behind Pham's .398
wRC+: #2 (142) just behind Pham's 148
Defense
Along with his Gold Glove in 2017, Marcell Ozuna put together a 3.4 Ultimate Zone Rating (UZR) primarily as a left fielder for the Marlins.
He's likely going to take over right field for the Cardinals in 2018 as Pham moves to center and Fowler shifts to left. Ozuna should help improve the corner outfield defense.
What to expect
Fangraphs projects Marcell Ozuna to have 29 homers in 95 RBIs in 2018. Leading the Cardinals projections in both categories. They also project a .291 / .354 / .519 slash line. A slight down tick from his career 2017 numbers, but still good to be amongst the top Cardinals.
And one final check on the advanced stats has Ozuna projected to lead the Cardinals in wOBA (.367) and wRC+ (127).
Social
If you're looking to follow Marcell Ozuna you can't find him on Twitter. He's not on there.
But you can find him tossing out grams over on Instagram as @thebigbear13ozuna. Just be wary of viewing the shots of him and his wife in a waterfall at work. You know I'm gonna embed it.
Fun Facts
Marcell has had his own run in with a Rally Cat.
Carlos and Yadi call him coming to the Cardinals.
He's had his own run-in with Brandon Phillips throwing dirt in his face. But he took it all in stride.
He was wowed by the deep history of the Cardinals franchise after Winter Warm Up.
From FanGraphs