The St. Louis Cardinals made their first splash in free agency this offseason by signing left-handed reliever Brett Cecil to a 4 year / $30 million contract. And one thing is certain, Aroldis Chapman is going to get paid.
With Zach Duke requiring Tommy John surgery and Tyler Lyons struggling to be ready for Opening Day, the Cardinals turned to Cecil to shore up the bullpen. The lefty should provide Matheny a second strong left-handed option out of the 'pen to help save Kevin Siegrist's arm.
I'll leave the stat-crunching to others that know what they're talking about, but I did want to point out his nasty curveball that he goes to quite often. To the tune of 10+ Ks per 9 over the last few years.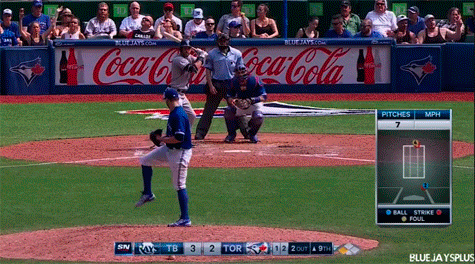 Brett has been a second half pitcher posting ERAs of 1.50, 0.00, and 3.18 in 2014, 2015, and 2016 respectively. That 2015 second half included a stretch where he appeared in 38 games without allowing an earned run. A streak that ended in April of 2016.
He dealt with a torn lat in 2016 that the Cardinals are hoping was to blame for his "off" year. They're banking of getting the 2013-15 version rather than the injured 2016 version. Though he did pitch well down the stretch in 2016.
What The Fans Are Saying
We might as well get ourselves accustomed to the fans view of Brett Cecil, since that's who we are, and that's who we care about.
Unhittable is a good thing.
What's up Canada? Throwing beers on the field and harassing reliever's wives? I guess only 95% of you are super polite.
I don't like seeing other (non-Cub) fans upset, but I'll take this.
Getting our glasses on for the first time since the Joe Kelly era.
Where to Follow
Brett seems to be pretty private social media user. He's unverified on Twitter and only posted twice in September of 2014.
He's also on Instagram, but he's private. Although according to one fan on Tumblr, he will accept you.