This is a copy of the newsletter that went out earlier this week. If you want this great content in your inbox every week without the hassle of going to the website you can sign up here. Plus you'll get it before everyone else.
Let's go back in time a couple weeks. Back on June 6 the St. Louis Cardinals allowed Scooter Gennett to become the 17th player in the history of Major League Baseball to join the 4 homerun club. He of 42 career homeruns. The next lowest career homerun total on the list belongs to Bobby Lowe who joined the list in 1894 with the Boston Beaneaters1. Lowe had 71 career homers.
Needless to say after that 13-1 arse-whooping the St. Louis Cardinals needed to switch something up. They did so the following day by putting Matt Carpenter back in the leadoff spot and moving Dexter Fowler to 2nd.
In the 15 games since then the Cardinals are averaging 5.5 runs per game. Of course they're only 7-8 over that span because they forgot how to pitch in Baltimore, and dropped the final 3 games of a 4 game series against the Brewers. A team they have dominated in recent years. They're 57-30 against them since 2013 and were even up 5-3 against the first place Brewers of 2017 before dropping 3 straight.
A lot of that offensive "explosion" can be attributed to Matt Carpenter and Dexter Fowler deciding to get insanely hot at the same time.
Carpenter is hitting .360 out of the leadoff spot with a .500 on base percentage. While Fowler had a streak where he hit homeruns in 5 consecutive games.
Fowler had been heating up for awhile, but Carpenter wasn't hitting at all. He moves to leadoff and suddenly he's Matt Carpenter again. Let's take a look at the numbers.
Around the Horn
If you didn't see it Vladimir Tarasenko wrote a great piece for the Player's Tribune covering learning hockey in Siberia, coming to St. Louis, and more. It's definitely worth the read.
The Blues released their list of players that won't be going to the Las Vegas Golden Knights. Both Vladys and Allen plus 8 others.
The Las Vegas Golden Knights ended up taking David Perron from the Blues in the expansion draft.
Future Cardinal (please) Manny Michado showed off his arm over the weekend throwing out Jedd! from way back in foul territory.
Our long national nightmare is over. We made it through peak fidget spinner.
In the NBA, the Celtics traded the #1 overall pick to the 76ers, who will likely pick Markelle Fultz. Meanwhile the Lakers don't seem 100% sold on Lonzo Ball. Which seems surprising with a father that is so humble.
We can add sweat to the long list of outside circumstances hindering the Cubs this season.
Nolan Arenado hit a walk off bombskie to compete the cycle on Father's Day.
ESPN's Edward Aschoff has Mizzou ranked as the #4 backfield in the SEC. And I had no idea Drew Lock passed for 3,399 yards. Good for second in the SEC. I guess being down a lot will do that.
Aledmys Diaz and Alex Reyes were featured in ESPN's Beisbol Experieince.
Stephen A. Smith kept being very giffable.
Hot off of winning their second NBA Championship in 3 years, the Warriors are probably going to continue to be good for awhile.
In Jimmer Fredette news, he hit 92 out of 100 three pointers at a charity event recently.
ESPN Insider ranked the 30 best NFL offenses of the last 30 years. The only Greatest Show on Turf team to make it was the 2000 squad. Ranked at number 29. Conveniently above the paywall.
The Los Angeles Dodgers' Cody Bellinger has 21 home runs through his first 51 career games. He was only called up on April 25th.
An ex-Patriots player told the story of the time Bill Belichick chewed him out for complimenting a teammate to the media. I think it'd be fun to get Belichick drunk and ask him how he really feels about Roger Goodell.
The Cubs are sending Kyle Schwarber down to AAA thanks to a gentleman's .171 / .295 / .378 slash line (AVG / OBP / SLG).
The Mets were full of butt-hurt after Yasiel Puig demolished a homer off them on Wednesday. Maybe he was just watching to make sure he didn't hurt anyone in the stands with it. This uproar about guys watching homeruns needs to stop.
Lot's of people seem to think the Cardinals could be sellers this season. I don't remember the last time that was the case.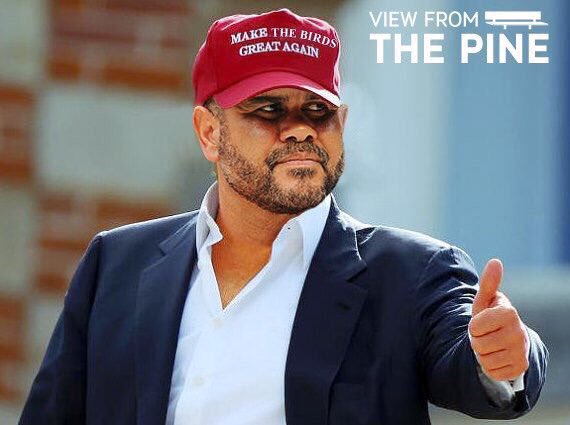 [optin-monster-shortcode id="uveoiinkb1r540lvqtr5″]