It turned out to be a bad week to anger pick against the Rams. In their first game in Los Angeles the Rams managed to win while still failing to score a touchdown. Then on Sunday night Sam Bradford looked like an actual NFL quarterback for a playoff contender when he knocked off the Green Bay Packers.
Needless to say it was not a great week for our picks. There was improvemenet though. Well, Steve and Tim improved to 2-2 on the week raising their season total to 3-5. While Jason and David posted a second consecutive 1-3 to bring their season records to 2-6. But as Jeff Fisher always said, "We'll fix it in practice."1
On to Week 3!
Game of the Week #1: Minnesota Vikings @ Carolina Panthers
Jason: The Minnesota Vikings were able to shutdown Aaron Rodgers while getting a solid performance from Sam Bradford to squeak out a 17-14 win against the Green Bay Packers. The Carolina Panthers meanwhile trounced the Tampa Bay Buccaneers. Does Bradford have what it takes to match up against Newton? No. Are we all overlooking the Vikings defense for a second week in a row? Probably.
Pick: Carolina Panthers
Steve: Sammy B looked good in his first game in the new stadium, but now has to return to the site of one of his ACL blowouts. I'll take Carolina.
Pick: Carolina Panthers
David: Cam and Co. at home will be too much for Sammy B and the AP-less Vikings
Pick: Carolina Panthers
Tim: It's been a bad week for Minnesota. First Peterson gets hurt, then Garnett retires, the Twins still suck. Maybe the Wild will be good.
Pick: Carolin Panthers
Game of the Week #2: Pittsburgh Steelers @ Philadelphia Eagles
Jason: The Eagles are off to a surprising 2-0 start behind the Quarterback play of number 2 overall pick Carson Wentz. And the Steelers are 2-0 without the help from Le'Veon Bell during his suspension. Of course the Eagles have done it against the Cleveland Browns and the Chicago Bears. While the Steelers have beaten Washington and the Cincinnati Bengals. Even though they're on the road I'm going with Roethlisberger and the Steelers to hand the rookie his first loss. Who throws a pick first Goff or Wentz?
Pick: Pittsburgh Steelers
Steve: Philly is 2-0 but has only beaten the Browns and Bears.
Pick: Pittsburgh Steelers
David: Just have a feeling really. Probably wrong, but whatevs2.
Pick: Philadelphia Eagles
Tim: If I know anything about the state of North Dakota, it's that they produce awesome QB's. Carson wins the battle of the Keystone state.
Pick: Philadelphia Eagles
Lock of the Week
Jason: Los Angeles Rams @ Tampa Bay Buccaneers
If there is one thing you can count on like clockwork in the Jeff Fisher era of the Rams, it's that they'll win games no one expects them to and then turn around and lose handidly the next week. To the numbers!
2016
Week 1: Beats Seattle 34-31
Week 2: Lose to Washington 24-10
Week 4: Beat Arizona 24-22
Week 5: Lost to Green Bay 24-10
2015
Week 7: Beat Seattle 28-26
Week 8: Lose to Chiefs 34-7
Week 11: Beat Denver 22-7
Week 12: Lose to San Diego 27-25
It's actually kind of remarkable. My prediction: Jared Goff makes his first appearance in the 3rd quarter down 17-3. Throws a pick before Carson Wentz and the Rams lose 24-10. Gurley breaks off a long TD late in the game.
Pick: Tampa Bay Buccaneers
Steve: New York Jets @ Kansas City Chiefs
KC will win at home over the Jets even if Jamaal Charles doesn't make it back in time.
Pick: Kansas City Chiefs
David: Arizona Cardinals @ Buffalo Bills
Duh. Buffalo can't keep up with AZ's offense.
Pick: Arizona Cardinals
Tim: Arizona Cardinals @ Buffalo Bills
Buffalo fires their offensive coordinator after scoring 31 points last week. Bold strategy, we'll see if it works out.
Pick: Arizona Cardinals
Upset of the Week
Jason: San Diego Chargers @ Indianapolis Colts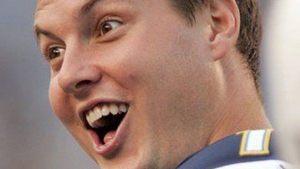 It's the year of Marmalard3! The Colts line can't protect Andrew Luck. The Chargers would be 2-0 if they didn't find a way to blow a huge lead against Kansas City in week one. I have no idea if Joey Bosa is going to play and the Chargers lost Keenan allen for the season. I'm just riding the Rivers train!
Pick: San Diego Chargers
Steve: Denver Broncos @ Cincinnati Bengals
I'll take the Broncos is a close one.
Pick: Denver Broncos 
David: Detroit Lions @ Green Bay Packers
Packers barely beat the Jags, and lost to the Vikings who have Bradford. So basically the Packers aren't very good this year.
Pick: Detroit Lions
Tim: Washington @ New York Giants
Things are going too well for Eli right now. He gets brought back to earth this week.
Pick: Washington
Photo Credit: Dolapo Falola with Creative Commons License