Is it just me or has the NFL just had some terrible matchups this season? There's no team that's really great. But there are an awful lot of teams that fall directly in the category of mediocre. Probably explains why no one is watching the NFL.
3 of the 4 1 loss teams didn't have their starting quaterback for the 1st 4 weeks. 2 still don't. And the other 1 lost team, the Seahawks, played to a 6-6 tie on Sunday night. In a true showcase of how "meh" the NFL has become.
I guess we'll still do picks. Does anyone even care?
Standing:
David – 15
Steve – 13
Tim – 11
Jason – 10
Game of the Week #1: Green Bay Packers @ Atlanta Falcons
Jason: One team is suppose to be good. One team is suppose to be bad. They're both probably mediocre. The Packers have no running backs. The Falcons dropped a 17 point lead at home to the Chargers. Which did allow me to tie for first in my office pool. Had the Cardinals kicker hit a field goal I would have won. I'll take Rodgers in a dome against the Falcons defense. I expect a high point total.
Pick: Green Bay Packers
Steve: Still don't have much faith in the Packers this year even though they beat the Bears last week (woo hoo).
Pick: Atlanta Falcons
David: GB has wins over lesser teams in the league. Atlanta's offense is just too much and I expect them to bounce back after losing two in a row.1
Pick: Atlanta Falcons
Tim: I said it last week in my upset pick, the Falcons have a history of starting strong and falling apart. And after blowing a 17 point lead last week, they are rattled. Rodgers will silence some of the doubters with a victory.
Pick: Green Bay Packers
Game of the Week #2: Philadelpha Eagles @ Dallas Cowboys
Jason: The Eagles were another big pick for me in my office pool last week. Not one other person in the 24 person league had faith in the Eagles taking down Bradford. And most of these people are from St. Louis. They should know better than to pick Bradford for anything but the IR. Still I'm going with the Cowboys at home. Better running game. Better QB. Wait is Tony Romo playing?
Pick: Dallas Cowboys
Steve: Dak will force "America's Sweetheart" Jerry Jones to make a tough choice about bringing back Romo.
Pick: Dallas Cowboys
David: I'd pick the Eagles if it were in Philly, but it's not. So I'm picking Dallas to win with their home crowd behind them.
Pick: Dallas Cowboys
Tim:  The Cowboys' rookie duo of Prescott and Elliot is too good. St. Louis's own Ezekiel Elliott2 is well on his way to winning Rookie of the Year and possibly even MVP. He is currently on pace for 1,875 rushing yards. I think it will come down to either Elliot or Brady.
Pick: Dallas Cowboys
Lock of the Week
Jason: Kansas City Chiefs @ Indianapolis Colts
The Chiefs are one of that team that does well enough to flirt with the playoffs all season. Then need like 3 different teams to lose to make it into the playoffs on the final day. This seems like one of those years.
Pick: Kansas City Chiefs
Steve: Minnesota Vikings @ Chicago Bears
Chicago isn't a very good football team and I'm sticking with Sammy B to bounce back after a tough loss last week.
Pick: Minnesota Vikings
David: Minnesota Vikings @ Chicago Bears
The Vikings finally lost last week, I don't expect that against a poor Bears team.
Pick: Minnesota Vikings3
Tim: New England Patriots @ Buffalo Bills
The Bills beat the Patriots in week 4, the Pats last game without Brady. The last time the Patriots were swept in season by a division opponent was in 2000. It's not happening this year.
Pick: New England Patriots
Upset of the Week
Jason: New York Jets @ Cleveland Browns
The Browns wouldn't really go 0-16 in the same year the Cleveland Cavalier win the NBA Championship and the Cleveland Indians go to the World Series, would they? Well actually, yeah, they probably would. But if they don't this is 1 of 4 chances they've got left.
Pick: Cleveland Browns
Steve: Detroit Lions @ Houston Texans
Man, Osweiler looks like a dude who does not know what football is. I'm actually not sure how the Lions are 2.5 point underdogs here….
Pick: Detroit Lions
David: New England Patriots @ Buffalo Bills
Because it's already happened, which means it probably won't happen again, but still going for it.
Pick: Buffalo Bills
Tim: Detroit Lions @ Houston Texans
Brock Osweiler is just not that good, as evidence by that fumble he threw on Monday night. I didn't think it was possible to throw a fumble, but he did. Meanwhile, Matthew Stafford is quietly putting together an MVP campaign, ranking 8th in the league in passing yards and 4th in touchdowns.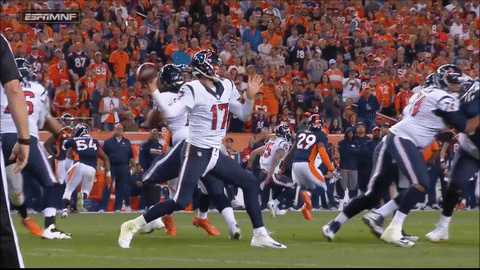 Pick: Detroit Lions