Aaron Judge is off to a torrid start of his career. After appearing in only 27 games last season, Judge has been dominating pitchers in the American League. He's leading the league in homers with 30. Giving him the New York Yankees record. For a single season. Once held by a some guy named Joe. Joe Dimmagio I believe.
I've already said I think he'll have a shot at the Yankees single season homerun record1. The 61 dingers famously held by Roger Maris. And high water mark in baseball for 37 years until broken by Mark McGwire in 19982.
But he's done one thing in particular that I thought was surely impossible.
He made me like a Yankee. *shudder*
That's right. I grew up with the New York Yankees super teams that were always winning everything and jammed down our gutlets by ESPN and the national sports media.
This was a time when you were either from New York (and not Jerry Seinfeld), a bandwagoner (the 90s equivalent of Drake), or hated the Yankees (me and the rest of America). Essentially what the St. Louis Cardinals of the last decade have become to MLB fans3.
I haven't liked a single person in the New York Yankees organization since George Costanza worked there in the early 90s.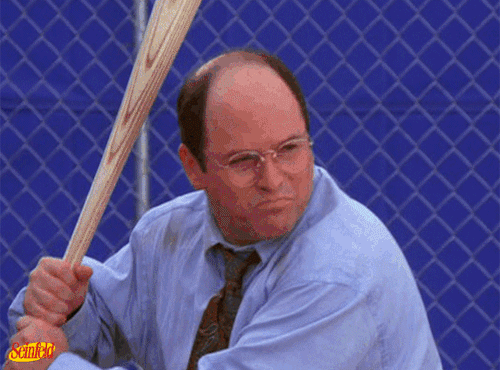 Listen, I respect Derek Jeter. He' had an awesome career. Put together a heck of a starting lineup. But I don't like him.
I still contend he could have slid instead of getting his heart and grit all over the crowd on that foul ball. And that if Giambi didn't run the bases like a 40 year old in beer league softball he would have been safe.
That play should be called the Non Slide. Not The Flip.
Side note: If anyone has Giambi's number my beer league softball team is constantly looking for subs.
But somehow Aaron Judge is softening my bitter hatred. Even with the media cramming everything he does down our throat. I haven't gotten tired of watching him hit 500 foot homers. He seems like a good dude.
Maybe it's that big goofy smile. Or him making Ronald Torreyes look like a bat boy during celebrations.
So kudos Aaron Judge. You can add converting (begrudginly) one Yankees hater into an Aaron Judge fan.
And with the addition of Matt Holliday alongside my blossoming disdain for the Boston Red Sox I may even end up rooting for the Yankees this year*. 2017 is a crazy time in America.
*Unless of course they're playing the Cardinals.