We're at the All-Star break and this time it, thankfully, didn't count.
To no one's surprise Aaron Judge destroyed some baseballs in the homerun derby.
Watching Judge and Stanton crush balls made it even more clear that the St. Louis Cardinals are missing that big bat in the 3-hole. A spot that was manned by Albert Pujols and Matt Holliday for the better part of two decades.
So who do the Birds turn to after the All-Star break to hopefully finally stabilize the heart of the order?
The Internal Candidates
Tommy Pham
Pham had an All-Star caliber first half. Or he probably would have if he hadn't spent a month destroying baseballs in AAA while Grichuk wiffed his way down to A ball. Minus a month of baseball he's still at 11 homers and 11 steals. He's been extremely productive in the Bigs, and he knows it. Which is kind of refreshing on this team. And also means he'll probably get traded for not giving boring answers.
Jedd Gyorko
Jedd has been solid all season putting up good power and a .300 average through the first half. He seems to have found a home batting cleanup, but he could easily move up a spot and keep producing. Jedd has been a delight after being acquired from the Padres for Jon Jay.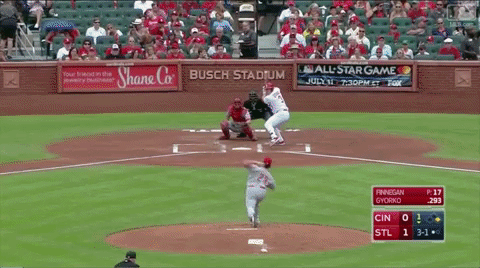 Dexter Fowler
In his two games off the DL before he break Fowler got the start as the 3-hitter. He went 3-8 with one homer continuing the unexpected power hitting from earlier in the season. If Dexter stays as hot as he was before the DL stint he could be a legitimate threat in the 3-spot. He's currently tied for the team lead with 14 homeruns.
Matt Carpenter
Matt Carpenter is the man Fowler is tied with for the team lead in homers. He's also the man that's taken the majority of at bats from number 3 in the lineup this season. But he was slumping and not playing like Matt Carpenter until they moved him back to lead off where he went on an absolute tear. If he can get comfy in the 3-spot he can put up MVP type numbers. But if he's going to be moving around the infield maybe it's best to keep him where he's comfy in the lineup. Leading things off.
Stephen Piscotty
Old Meatballs1 quietly put together a decent June with an .852 OPS. He got some looks in the 3-spot but he may need some more time to develop before he's the go-to guy of the offense.
https://giphy.com/gifs/food-pasta-H2Lu4f3f43hOo
Yadier Molina
Yadi only has 48 at bats at the 3-spot in the lineup in his career. It's probably not the time to start batting him there regularly. That being said if anyone would get fired up to bat there and go on a tear, it's Yadi. And probably Pham.
The Too Sooners
Paul DeJong
Paul DeJong had been on an absolute tear as a Major Leaguer. In 36 games he has 9 homers, 20 RBIs, and .902 OPS. Thanks in part to a .602 slugging. You'd like to see your 3 hitter take more walks and up that OBP. Plus he's a young guy so it's probably best to let him get his hacks on elsewhere. For now. Hopefully the Cardinals found their shortstop for awhile. While their All-Star shortstop from last year finds his swing in Memphis.
Luke Voit
Luke as the 3-hitter might be a bit of a stretch. He's only had 38 Major League at bats. But he's hitting .316 with 3 homers (including a monster blast to Big Mac land) and a 1.050 OPS. It's a little early but if he keeps up the pace and gets a good helping of playing time, he could have a legitimate shot.
The External Candidates
Giancarlo Stanton
Now that the Rockies are good, Cardinals fans have had to look elsewhere for potential talent to raid. This year that gets to be the Miami Marlins. Ozuna and Yelich have also been mentioned, but if we're going wishful thinking we might as well go for the big guy. Plus he has a loooooong contract.
Stanton is an absolute beast and can tear the cover off a baseball. He also has a no-trade clause and would require some young talent in return. You're probably talking about some good young pitchers and / or outfielders. Luckily the Cardinals have a solid depth of both. Just look at some of the numbers in Memphis and Springfield.
Plus Grichuk's hair would really fit in on the Miami beaches.
Josh Donaldson
The Yankees are getting better, the Red Sox are pretty good, the Rays are over .500, and the Blue Jays have fallen to the cellar of the AL East.
Donaldson has missed some time this year. But he put up 78 homers in the last two seasons. He'd also be under contract for 2 years.
On the downside he'd need to fit into a currently crowded infield with Wong returning to make it tough to get Carpenter and Voit plenty of playing time. Plus Jedd Gyorko has played an outstanding third base this year. He's second to only Nolan Arenado in defensive runs saved at the position.
The Cardinals could use someone to up their hair game.