The St. Louis Cardinals left fielders in the 2000s have included a few fan favorites, the departure and return of a longtime Bird, a player that's already made this list, and a dominant player at the position that for some reason takes a lot of heat from (a portion) of the fan base. We've moved into the outfield of our All 2000s St. Louis Cardinals and are tackling the first corner outfield spot, number 7 on your scorecards, left field.
Let's cover voting again. We've got 4 voters1, and each ranks their top 3 at the position with 3 points going to 1st, 2 points to 2nd, and 1 point to 3rd. Here's where we're at:
Catcher – Yadier Molina
First Base – Albert Pujols
Second Base – Fernando Vina
Third Base – Scott Rolen
Shortstop – Edgar Renteria
If you want to hear us debate left field on the PineCast, checkout episode 039.
The Starter – Matt Holliday (12 points)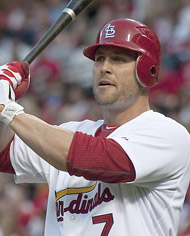 Jason's Take (3 points) – Matt Holliday has been one of the best left fielders in baseball since he signed with the Cardinals in 2010. But you wouldn't know that based off some of the heat Holliday gets. Prompting me to write the Guide to Hating on Matt Holliday a couple years back. The story is mostly the same, but with some updated stats. He's 2nd in WAR among left fielders since 2010 and 8th in WAR among all out fielders over the same span. Throw in a sprinkling of 10th in RBIs and 5th in OBP. Dude is good.
Tim's Take (3 points) – I was a fan of his when he was in Colorado and was pumped when we made the trade for him. In 7 years with the Cardinals he has hit .298 with 136 homers and made 4 all-star games. He has made that enormous contract that he signed in 2010 well worth it.
David's Take (3 points) – Hard again to not pick your most tenured left fielder in the 2000s, especially when Holliday has been as consistently good as he has been. Sure, injuries recently have plagued him the last couple of seasons, but as swoll as he is, Holliday could always have the potential to hit his average and 20 bombs at age 50… as long as he can still walk.
Steve's Take (3 points) –
The Backup – So Taguchi (5.5 points)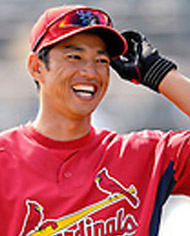 Jason's Take (2 points) – The biggest surprise on the team so far. Taguchi was the only other left fielder to be on everyone's list. He may not have been an everyday player his entire run in St. Louis, but the guy was clutch when given the opportunity. Taguchi was unstoppable with the bases loaded. He also tacked on a leadoff 9th inning homerun in a tie game against Billy Wagner and the Mets in game 2 of the 2006 NLCS. That jumped the Cardinals win probability by 33%. Make it So.
Tim's Take (1 point) – Played 6 seasons with the Cardinals, appearing in 235 games at left field. Sure he numbers are not spectacular, but he could come through in the clutch. He hit .336 with runners in scoring position, and from 2004 – 2006, he hit .516 with the bases loaded. Also hit a huge game-winning home run in the 9th off Billy Wagner in Game 2 of the 2006 NLCS.
Steve's Take (1.5 point) – If there was one dude that Birds fan rooted for, it was So Taguchi. Also, the dude was clutch.
David's Take (1 point) – With the Birds, 6 years, .283 avg in 578 games. Cannon for an arm. But what's most important, 8 year career .331 hitter with RISP (17 PAs non-Birds), and .512 avg. with bases loaded (3 PAs non-Birds). You do the math on his Cards numbers, cause I'm sure as hell not going to.
Editor's note: I forgot how good of an at bat that was by Taguchi.
Honorable Mentions
Albert Pujols (2 points)

Tim's Take (2 points) – The machine was so good, he makes the list in 2 positions. He played in 269 games at left field from 2001 – 2003. During those 3 seasons, he won Rookie of the Year and finished in the top 4 of the MVP race all three seasons.
Ray Lankford (2 points)

David's Take (2 points) – Pure nostalgia factor for my vote here. Lankford was primarily a CF leading into 2000, but still hit 66 HRs and batted in 184 runs with his 21st Century time with the Birds.
Chris Duncan (1.5 points)

Steve's Take (1.5 points) – Chris Duncan might not have had the sweetest swing, or been the most graceful in the field, but he did have the best lip full of dip in the game. Also, Taguchi and Duncan both had a bomb in the NLCS so there's that too.
Reggie Sanders (1 point)

Jason's Take (1 point) – Remember that time he hit that Grand Slam in the NLDS against the Padres? That was awesome.
---
Voting Results
Jason
Matt Holliday (3 points)
So Taguchi (2 points)
Reggie Sanders (1 point)
Steve
Matt Holliday (3 points)
Chris Duncan / So Taguchi (1.5 points each)
David
Matt Holliday (3 points)
Ray Lankford (2 points)
So Taguchi (1 point)
Tim
Matt Holliday (3 points)
Albert Pujols (2 points)
So Taguchi (1 point)