One of the St. Louis Cardinals most famous players was a shortstop. But he didn't play in the 2000s, so he's not on this list. That's not to say the Cardinals haven't had their fair share of notable shortstops in the 2000s though. That means it is time for us to round out the infield on our list of the greatest Cardinals at each position in the 2000s.
Let's cover voting again. We've got 4 voters1, and each ranks their top 3 at the position with 3 points going to 1st, 2 points to 2nd, and 1 point to 3rd. Here's where we're at:
Catcher – Yadier Molina
First Base – Albert Pujols
Second Base – Fernando Vina
Third Base – Scott Rolen
If you want to hear us debate this more in depth check out the latest episode of the PineCast.
The Starter – Edgar Renteria (12 points)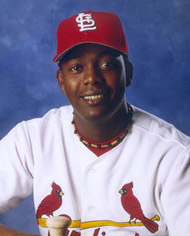 Jason's Take (3 points) – If you thought shortstop was going to break the dominance of the early 2000 Cardinals on this list, think again. Shortstop is not a position the Cardinals have locked down too much in the 2000s. Especially now that they've split ways with Pete Kozma. But in his 6 years donning the Birds on the Bat, Renteria put up some awesome numbers. Edgar put up 71 homers, 451 RBIs and bat .290 with the Birds. He also made 3 All Star games, won 2 Gold Gloves, and 3 Silver Sluggers.
Tim's Take (3 points) – Edgar came over as part of the annual Florida Marlins fire sale in 1998, and put together 5 productive years during the 2000s at shortstop. He hit 60 home runs, made 3 All star games, and won 2 gold gloves and 3 silver slugger awards. And he was one of the few Cardinals that showed up for the 2004 World Series where he hit .333. Not too bad for someone acquired in exchange for Braden Looper, Armando Almanza, and Pablo Ozuna.
David's Take (3 points) – One of the most consistent shortstops in recent Birds history, well obviously since the article is referring to Birds shortstops since 2000. But Renteria never played less 141 games, never hit below .260, was a part of 3 All-Star games and won 3 Silver Sluggers in his 5 years (6 if you count 1999) with the Cards.
Steve's Take (3 points) – Another all time favorite Bird and another early 2000s shirsey. Multiple sliver sluggers, all star games and even some MVP votes. Even though the dude kinda looked like a turtle, and he left STL before I got to wear my authentic jersey, still one of the best STL shortstops in recent memory.
The Backup – David Eckstein (8 points)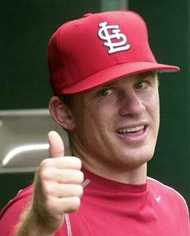 Tim's Take (2 points) – Sitting atop the Cardinals Mount Rushmore of Scrappiness, Eckstein was the starting shortstop for 3 seasons. Hit .297 and made 2 All Star games. Only muscled 13 home runs over this time, but one of those was a dramatic walk-off grand slam against the Braves that I vividly remember for some reason2. He came up huge in Game 4 of the 2006 World Series when he went 4-5 with 3 doubles, and went on to be named MVP of the series.
Fun Fact: Eckstein was the first player win the World Series as the starting shortstop for a team in both leagues (Angels 2002, Cardinals 2006).
Jason's Take (2 points) – Eckstein was with the Birds for 3 years of his 10 year career. During that time he put up some of his best numbers. He hit .297 as a Bird, .017 over his career average on his way to a World Series MVP and 2 All Star game appearances. During said World Series MVP performance he hit .364 and drove in 4 RBIs. Plus he was 5' 6'' and always seemingly jacked up on Mountain Dew. I once saw him play in Anaheim, and I swear during warmups he was jumping and spinning his arms as if trying to fly.
David's Take (2 points) – The definition of Cardinal scrappiness. Grinded out at-bats, as he only struck out 107 times in 3 seasons with the Cards (1749 PAs) and hit .297 in his time here.
Steve's Take (2 points) – World Series MVP David Eckstein is the way this little dude will always be introduced.
Honorable Mentions
Jhonny Peralta (3 points)

Jason's Take (1 point) – Jhonny has had 2 full seasons with the Birds now and 13(!) total in the MLB. In his 2 years in STL so far he has totaled a 7.5 WAR while putting up 38 bombs and 146 RBIs. In 2015 he put up MVP caliber first half numbers, but fell off a cliff in the second half. Here's hoping he can right the ship for 2016 and keep up the consistency.
David's Take (1 point) – 312 games played in 2 seasons with the Birds. 38 bombs, .269 average. Plays pretty decent defense for being primarily an offensive shortstop and cause he's a big guy.
Steve's Take (1 point) – Stepped up in the last two seasons as the only real consistent power threat and the only durable one in the lineup. Smoke up Jhonny!
Rafael Furcal (1 point)

Tim's Take (1 point) – Not many options left after #1 and #2, I'm going with Furcal. After coming over at the trade deadline in 2011 for a minor leaguer, he played in 171 games over 2 years. He batted .262 and made the 2012 All-Star game. Most importantly, he singly-handily won the 2011 World Series for the Cardinals when started the "Happy Flight" chant.
He went down with an elbow injury in August 2012, and would never play another game for the Cardinals. Furcal may have proved his valuableness in his absence. Pete Kozma took over as the starter and hit .227 in the 2012 NLCS loss the Giants. In the 2013 World Series, Kozma and Descalso combined to go 1 for 20 in the 2013 World Series loss to the Red Sox while playing shortstop. Had Furcal been in there, or even Khalil Greene for that matter, there may be 12 banners flying atop the Busch Stadium scoreboard.