The St. Louis Cardinals have been arguably the best team in baseball since the Y2K bug almost sent our world crashing back into the stone age before computers. They've amassed 1,464 wins over the span, second only to the New York Yankees. And they've done it at about half the price. The Yankees cost per win was $1,936,034.08 to the Cardinals $1,017,063.63. So it goes without saying they've had some good players pass through.
We're going to start off with a position that has been the most stable for the Cardinals throughout the 2000s. Catcher. Each voter picked 3 players with their 1st player receiving 3 points, 2nd receiving 2 points, and 3rd receiving 1 point.
Catch further discussion on our picks on the newest episode of our podcast:  The PineCast Game 034: Keenum is on the Case.
The Starter – Yadier Molina (12 votes)
(2004 – Present)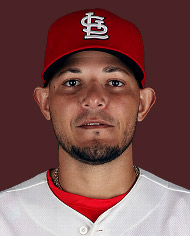 Jason's take – In the 12 years he's been with the Cardinals, Yadi has been an All-Star 7 times, won 8 Gold Gloves, 4 Platinum Gloves, and 2 World Series. He added another Platinum Glove in 2015. His offense may have been down in 2015, but he makes such a huge difference defensively and managing pitchers that he was still one of the best catcher's in baseball. It's gotten to the point that runners don't even bother trying to steal on him anymore.
Steve's take – We started off with one of the easiest positions to pick. 8x Gold Glove winner, 7x All-Star, 2x World Series Winner, 44 steals and 5 triples. Yadi is working his way toward being the best Birds catcher of all time, forget the 21st century.
David's take – It's a no-brainer. Molina is the longest tenured Cardinal. He's the definition of what it means to be a great defensive catcher. He's got eight straight Gold Gloves, to go along with 4 Platinum Gloves. He's durable, not as of late, but still. Since 2004, Molina has caught the 2nd most innings in all of baseball, behind AJ Pierzynski by just 345 innings. Sure, offensively he's nothing special, but with the way he changes the game defensively is unmatched by all catchers in the MLB today and definitely since 2000.
Tim's take – LaRussa said he'd be the starter even if he had a .000 batting average. Don't have to worry about that since he has a career batting average over .280 in the regular season and playoffs. 2014 NLCS would have turned out differently had Molina not been injured.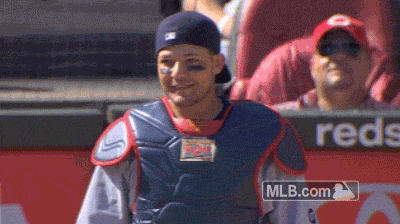 The Backup – Mike Matheny (8 votes)
(2000 – 2004)
Steve's take – Magic Mike won 3 Gold Gloves with the Birds and played in 622 games. He also caught in 3 postseason runs, including the 2004 WS. Oh yeah, he's also the manager now, so that counts for something right? He also got drilled in the face by a pitch while on the Brewers and never went down, so that gives him bad ass points in my book.
David's take – The man who passed the torch to Molina, giving him a very solid foundation to start his HOF career. Also 3 out of 5 years with the Birds on the bat he wins Gold Gloves, I'll take it.
Tim's take – Not the strongest hitter during his time in STL, as he never hit higher than .261 and 8 home runs in a season. But we all know his defense is where he made his money. With 3 gold gloves in 5 seasons with the Birds, he provided a level of comfort for the pitchers. It's too bad a hunting knife took him out of the 2000 playoffs. We all know Rick Ankiel coulda used him.
Jason's take – Before taking over as Manager of the Cardinals, Matheny manned behind the plate for the Cardinals from 2000 – 2004. He wasn't an offensive juggernaut, but he was a great defender. Plus he helped groom Yadi despite the fact Molina was there to replace him.
Honorable Mentions
Eli Marrero (1997 – 2003) (2 votes)

Jason's take – Eli Marrero is really the only other catcher this decade that has gotten any decent amount of playing time outside of the top two on my list. Fun fact: Eli Marrero caught Bud Smith's no-hitter in 2001.
Steve's take – Because I'm pretty sure I have his rookie card and autograph laying around somewhere.
Tony Cruz (2011 – 2015) (1 vote)
Tim's take – Molina and Matheny have had the position locked down this decade. With Molina being reliable and staying relatively healthy for the past 10 seasons, all your asking for in a back-up catcher is an occasional spot start and a pinch hit appearance. During Arnoldi Anthony Cruz's five seasons with the team, the Cardinals have a record of 133-126 in games he has appeared in, and 66-65 in games Cruz has started. Granted he only has a career batting average of .220, but for a played that never played more than 70 games or made more than $775,000 per season, you can't expect much more.
Keith McDonald (2000 – 2001) (1 vote)

David's take – If it weren't for Matheny and Eli Marrero, McDonald would've been a star. In only 2 seasons (8 appearances) from 2000-2001, McDonald was 3 for 9, 3 HRs, 5 RBIs and .333 average.