Game: 2 of 82
Blues win 3-2 over Wild.
Goals: Steen (1), Yakupov (1), and Paajarvi (1)
I won't lie to you all. I missed most of the entire first period1. However, from what I saw in shot totals, I'd say the Blues dominated the first period, holding the Wild to only 2 shots. The rest of the game was close, physical and pretty even on both sides.
There were a few more miscues from the Blues that we didn't see in the first game against the Blackhawks though.  Midway through the 1st period, the Blues on the power play, a cross ice pass from Tarasenko intended for Stastny was picked off and led to a short handed breakaway by Wild's winger Jason Zucker. Luckily Jake Allen "stood on his head and spit out wooden nickels" on that one, denying Zucker with a glove save on a backhand attempt.
Then early in the 2nd period, another turnover by the Blues led to a small breakaway attempt for the Wild. Allen made the initial save on a Ryan Suter backhand, but Suter recovered the rebound and put it in the wide open net. Lastly, there was yet another turnover in the offensive zone on a forced pass from Fabbri that led to an Eric Staal2 breakaway, but Allen came up with another great save.
Then the Yakupov show started.
First, Nail hammered3 a shot past Dubnyk, even though he thought he caught it4.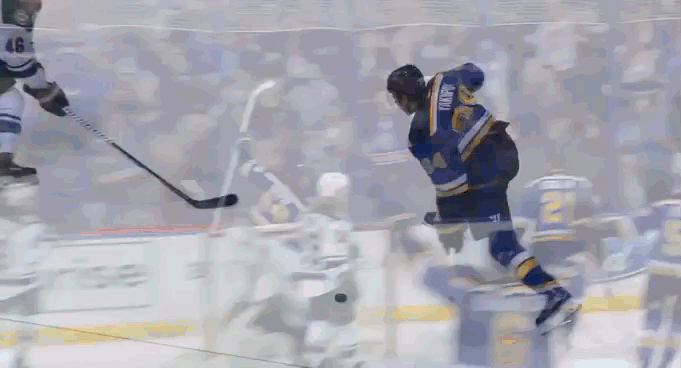 Now I stated, and so far have a good shot, that Yakupov will have 20+ goals this year. Based on that laser shot, I'm more and more confident that's going to actually happen.
Then he setup the eventual game-winning goal with a quick, tape-to-tape cross ice pass to Magnus Paajarvi.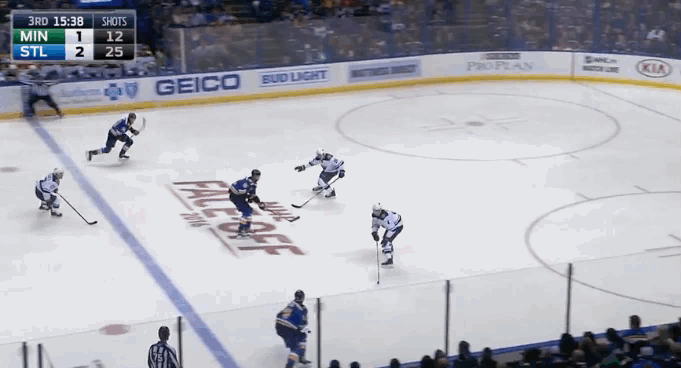 I shouldn't have called it the Yakupov show, since that entire line was nailing it all night. The Big Swede, Berglund, had 2 assists and as shown in the previous GIF, Paajarvi had the game winner. But knowing Hitch, and the way coaches coach in STL, the lineup won't be the same tomorrow. I can't completely complain about it now though, as 2 wins in 2 games is 1) a small sample size, and 2) Hitch and the Blues have the 3rd best record in the whole NHL since 20125.
Although, you have to constantly wonder what sort of talent players like Paajarvi, Rattie, Jaskin, to name a few, actually have if they would play on a more regular basis. Hell, we don't 100% really know what kind of player Jake Allen is yet. Between injuries and the split time with Brian Elliot6, I'd like to see what he can do being like all the other top goals in the league who start 50+ games. So far, so good I suppose. I'll stop my mini-rant. Just keep on, keeping on Blues.
Quick Hits
Blues have already been shorthanded 9 times this season (leads NHL). Not good.
Jay Bouwmeester had 5 shot blocks last night, putting him 2nd in the league so far this season in that category7.
Currently, Jake Allen leads the league in wins with a whopping 2. So might as well start the inscription on the Vezina Trophy now.
These stats will be more interesting as the season goes8.
GIF of the Game
— vhs (@VanHicklestein) October 14, 2016
Yakupov was last night's #1 star with his goal and assist. After Parayko (3rd star) and Berglund (2nd star) only skated out about 5 feet from the bench and threw their shirts literally to the same spot, Yakupov came out blazing and enjoyed his first 1-on-1 moment with the Scottrade Center faithful.
Up Next
The Blues faceoff against the New York Rangers on Saturday at home.
Bold Prediction: Yakupov scores again. Blues win in OT 4-3.
Not so Bold Prediction: Paajarvi is scratched from the lineup or Vlad scores again. However, both are likely.
Final note, the Blues aren't the only ones starting off the season with a streak. I have defied the odds, overcame obstacles like the condition from birth known as "laziness" and actually wrote recaps for two straight games. On back to back days nonetheless9! Booyah!
So until next time Blues fans, we'll see yas.