The 2017 St. Louis Cardinals offense has been streaky. They started out flat, hit a decent stride after 3 consecutive 2-1 victories over the Pittsburgh Pirates, and bottomed out recently putting up 6 total runs over 3 13 innings games. Wasting 9 innings of shutout ball by Carlos Martinez and 8 innings of 1 run ball from Lance Lynn against Clayton Kershaw. Then culminated by getting shutout 10-0 at Coors Field.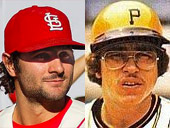 The go-to comparison for poorly performing offensive players in recent years has been poor Pete Kozma. Known around these parts as Kozma Kramer, Pete's been getting a lot of play on 101 during the current offensive slump. Pete, a light-hitting defensive specialist shortstop that was with the team from 2011 – 2015 and was the bane of many Washington National fans existence. Check out this slash line1 against them: .419 / .441 / .484. And that's for career. Not just 2012 NLDS.
In his time with the Cardinals old Petey was essentially a slightly better version of Mario Mendoza of the Mendoza Line fame. The resemblance is uncanny. Pete has a career slash of .220 / .287 / .293. Mendoza was .215 / .245 / .262. Pete is 6'0", 190. Mario is 5'11", 170. They even both were primarily shortstops.
The Kozma Line
In order to compare the 2017 St. Louis Cardinals offense I've created the Kozma Line to visually show where the Cardinals player's stack up against Pete Kozma's time wearing the birds on the bat.
Note: I'm a fan of Pete, but the poor guy has had to shoulder the stigma of offensive woes here in St. Louis and is the first name dropped for someone slumping. We'll always have the 2012 NLDS game 5.
Let's take a look at how the 2017 St. Louis Cardinals offense compares to Pete Kozma's AVG2 / OBP3 / OPS4 of .222 / .288 / .581 in his time as a member of the Cardinals.
Cardinals Offense Comparison
You've only got 3 players that are really blowing Kozma out of the water across all 3 stats: Jedd Gyorko, Jose Martinez, and Tommy Pham. All 3 players that weren't locks as starters in the Spring and 2 who can barely buy an at bat.
Everyone seems to have just a bit more pop than old Peter with Matt Carpenter hitting for about the same average, but blowing past Kozma in OBP and SLG.
You also have a smattering of guys beating the Kozma average, but not much else in Yadier Molina and Aledmys Diaz.
Your 3 main outfielders are basically Pete Kozma with slightly better pop in Fowler, Grichuk, and Piscotty. With Piscotty at least out to a hefty advantage in getting on base.
And then there's Jhonny Peralta. We probably don't want to talk about Jhonny. Kozma numbers would be an improvement for him across the board. A sizeable improvement.
Now, is it fair to compare the first 40+ games of a season to a guy career numbers? Probably not. But I did it anyway. And if they don't turn it around and start creeping those numbers back up, the 2017 St. Louis Cardinals offense is going to have some big problems.
---
Join the Bench!
Join the Bench newsletter to get updates from View From The Pine directly in your inbox. No spam, just great content and discounts. 😁
Check out the View From The Pine store for great gear!