Los Angeles Rams
Since the Rams left town, I've decided to rethink my life and finally pick a new team. After over a decade of being subjected to the worst football imaginable, I've got a fresh start! I'm going to lock my Greatest Show on Turf memories in a little keepsake box and jettison all the other years into a black hole.

So each week, I'm going to pick a team, follow their game and analyze key points like their star players, ownership, bandwagon effect, etc. This will hopefully answer the question "Do I see myself as a drunk dude in their stadium?" Obviously, a very scientific process.
So, here we are at week 1. Who better to start off with than the Rams? They're the team that got us here in the first place and I've subjected myself to their 7-9 bullshit for this long, what's one more game? Also, this way I'll do the analyzing for you. As Big Tom Callahan said, "I can get a hell of a good look at a T-Bone steak by sticking my head up a bull's ass, but I'd rather take the butcher's word for it." So come along as we delve into a land of pure mediocrity!
The Players
At least the Rams have some players that I wouldn't mind following. I mean you've got guys that have been defensive stalwarts like James Laurinaitis and Chris Long. You know, the heart of the defense. Even Janoris Jenkins has evolved into a solid player that can help this team. It's great to keep these core guys around…

Aaron Donald
He can be the best player on the field at any given moment and is usually the first guy off the line and into the backfield. Aaron Donald is what you'd get if you took five pug puppies, rolled them into a ball and shot  them out of a fuckin' cannon. At times, he completely took over games for the STL Rams (RIP pours 40 to the ground). Also, he's a 98 rank on Madden. So there's that.

Todd Gurley
Ah Todd. It would have been nice to watch you waste away your career under horrible coaching and ownership right here in STL (RIP Steven Jackson pours out rest of 40). Now I'll just have to do it from afar. He may be the only competent player on offense for the Rams, so at least maybe they'll figure out how to get him some yards?

Also, he's the only real marketable star the Rams have right now and he's gonna be all over commercials this year. I mean just look at him eat this 'shopped burger. All-Pro burger chompin'.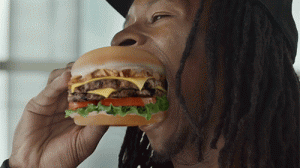 Jared Goff
Uhhhh. That was a high price for a third string QB huh, Jeff? Especially since Carson Wentz and Dak Prescott are starting AND played well.

Johnny Hekker
The Rams real third string QB.
I like some of these guys, but now that I'm not drinking the Kool-Aid and have seen the light, I'm left thinking of all the offensive players we'd been sold on who still don't have their shit together. Tavon Austin, Brian Quick, Greg Robinson I'm looking at you.
6/10
The Coaching
Fisher's style of game has been to make sure to lull the fan base to sleep and for them to lose interest. However, no one remembered to tell him that wasn't supposed to transfer to LA. I'm sure this defense-focused, offenseless gameplan will translate well to that market.
3/10
The Ownership
HAHAHAHAHAHAHAHAHA! *gently sobs
0/10
The Fans
I'm not ready to make the call on this one. I'm going to have to wait and see which celebrities latch onto the Rams when they play their first game in the Coliseum next week. Odds on the first player to date a quasi-celebrity? That Monday Night game may not be a good indicator for renewed LA fandom, as their TV ratings were a little rough.
They have apparently recruited Terry crews though.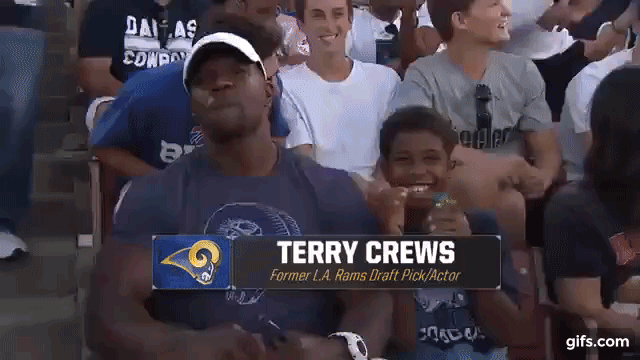 4/10
The Game
I didn't know what I was expecting out of that Monday night performance, but HO-LEE SHIIEEET. That could not have gone much worse than it did. 185 yards of total offense, 47 yards on 17 carries for Gurley and Aaron Donald got himself kicked out of the game. They played the same Jeff Fisher style, undisciplined shit that makes them look like a bunch of idiots (which they may well be). 10 total first downs and 3 for 15 on 3rd down (these numbers were padded in garbage time) ain't gonna do it for me fellas.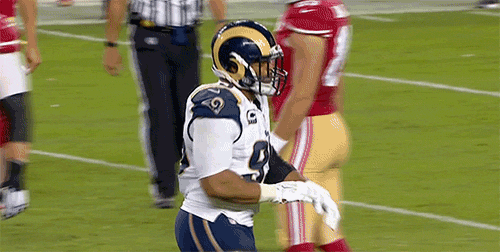 Blaine Gabbert looked like a viable QB option in this game. That's how bad the Rams were. He had the best game of his career in terms of QBR (91.1). Oh, he also rushed for almost as many yards as Gurley on 8 less attempts. He did all this against a supposed lockdown defense that gave up 28 points due to being on the field all night.
The Rams player of  the game was Johnny Hekker with 10 punts for 431 yards. That's a 43.1 yard average for you math whizzes out there. If only they let him throw the ball too…
What a terrible game with no redeeming qualities. Oh, unless you count this.
1/10
The Bandwagon
They're the new shiny thing in LA and the NFL is going to do everything they can to make them work, but good lord who would want to jump on that bandwagon after complete dumpster fire they put on in Week 1? No thanks. Now that the Rams are out of town, I can finally see that this team is not getting better and may actually be getting worse. The only reason you'd have to cheer for this team is if it was beaten into you from an early age and even then, you should really think about it. Especially since LA will have the chance to see better teams every week when they come to smoke the Rams. So you'll have your pick!
2/10
The Verdict
After analyzing the data and running it through our proprietary methodology, I've come up with the below score to gauge my interest in becoming a Los Angeles Rams fan.

As I was watching the Rams shit the bed Monday night, I felt a wave wash over me that wiped away all of my bad Ram memories, leaving me with only the good Greatest Show on Turf memories. I have been born again. No longer must I force myself to watch bad football. Come on in boys, the water's fine.